Blake Austin was handed a one-match ban by the RFL's Disciplinary Match Review Panel earlier on tonight and the minutes have been revealed why.
The former Warrington Wolves halfback made his debut for Leeds against Hull FC in Tom Briscoe's testimonial, but was handed a yellow card for 'dangerous contact.'
The minutes have been revealed why Austin was given a one-match ban: "A defending player makes contact with an opponent after the ball has been released by an opponent in a vulnerable position which causes flexion to the head, neck or spinal column on an attacking player, which poses an unacceptable risk of injury to that player."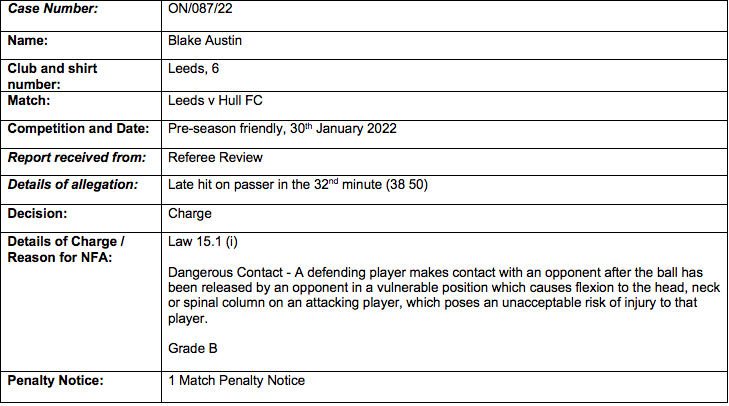 That means that the Leeds man will miss out on making his competitive debut against former side Warrington Wolves as Daryl Powell takes charge of his new club in his maiden game, too.
Austin had spent three seasons at the Halliwell Jones Stadium before swapping that for Headingley, signing a one-year deal ahead of the 2022 Super League season.
And, he has now revealed that he was not given an offer to stay by Warrington.
"I didn't have an option to stay, but it's come and gone now to be fair," Austin said.
"I've spoken about leaving the club a few times and I think it's a bit irrelevant now and I'm enjoying my time at Leeds – bring on the season."