Since they were formed just three years ago, Castleford Tigers Women have established themselves as one of the big hitters in the Women's Super League.
Behind their rapid rise is head coach Lindsay Anfield, a modest woman who prefers to stay away from the limelight.
After retiring at 30, citing frustrations at the lack of growth in the women's game, Lindsay put her focus on empowering future generations. It was a decision that started somewhat of a trend, leading to many current and former players, like myself, seeing a future in the game beyond playing, whether that's in coaching or the media.
Lindsay's work-ethic and methods have undoubtedly set the standard for future coaches. Although she won't admit it, Castleford's success is owed largely to her. She had a vision and is definitely implementing it with superb results.
"After I was appointed head coach I sat down and drew up a three-year plan of exactly what I needed to do," Lindsay told me. "I wanted to develop the team and set new standards for women's rugby league both on and off the pitch. Players contacted me, and some players came over later from other Super League teams.
"The next step was for us to become serious contenders and also give the girls opportunities to be selected as internationals. Although the players are amateurs, our standards needed to be that of the professionals, and the players had to buy into this. I knew I needed strong coaching staff, so I called upon those who I had worked with in previous years. Each staff member is an integral part of the team and their effort, dedication and time has made my job so much easier."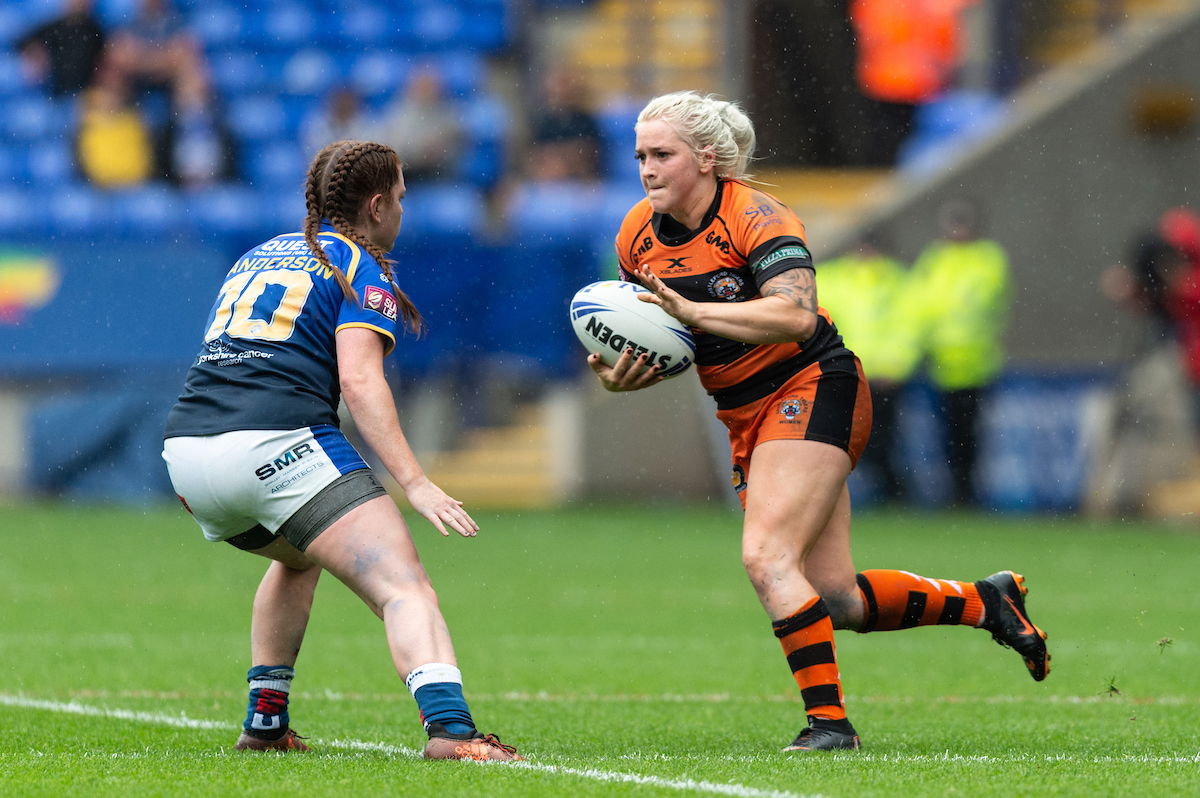 Despite topping the Women's Super League this season, Lindsay and her Tigers' team ended up missing out on the two major trophies. But for a Leeds Rhinos team who seem to produce their best on the big occasion, Castleford could have easily ended the campaign with a historic treble. Although it wasn't meant to be, the development of the club in such a short space of time has been miraculous and can be put down to the selfless work of Lindsay and her staff.
"It's important to remember we are volunteers and are not paid," she said.  "I am a lover of women's rugby and all I want is for women, regardless of their team, to succeed to their fullest potential, which will then enable us to compete on the international stage again.
"Coaching women's rugby is no different to coaching men. I hear this statement a lot and it's far from the truth. On the pitch the technical elements are the same. Off the pitch, women react different to each coaching style and we have assistant coaches who have learned over time to harness that style and improve each player's individual efforts, as well as dealing professionally with off-field issues.
"Player welfare is just as important as their performance. We have young women who are role models to young girls playing at grass roots level, so as a team we must look at the implications and impacts they can have on young children wanting to become future players. I have made an effort to develop good relationships with our local feeder teams, Cutsyke, Normanton and Fryston, so that we have a healthy balance of new and experienced players."
It has been a rollercoaster journey for Lindsay since taking charge of the club. Her management skills have been tested to the full on both ends of the spectrum. The growth of the league and the success of the team has resulted in more media coverage, which of course is not always positive.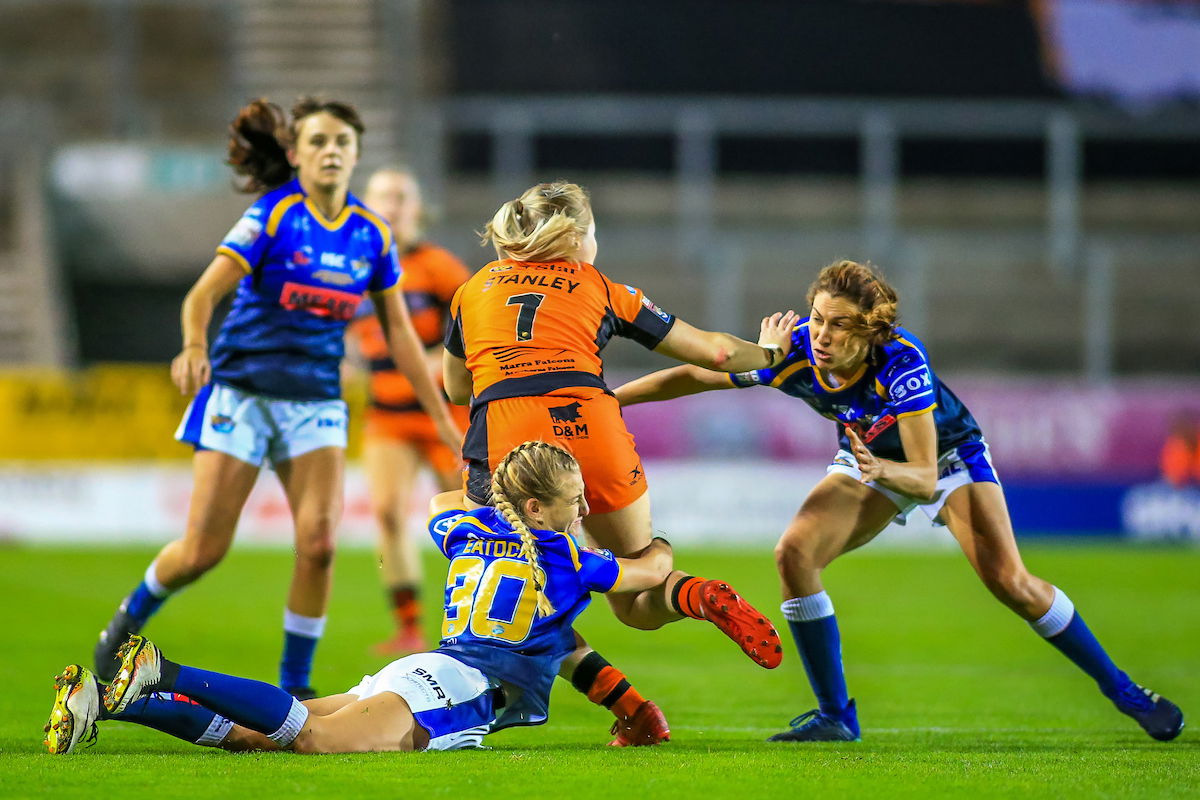 Castleford's Super League Grand Final against Leeds in October was shown live on Sky Sports, a dream come true for many of those involved. But with that came the pressure of performing to a huge audience, making players and coaches more open to criticism. Lindsay of course recognised this and was in agreement with my statement that it can get lonely at the top.
She added: "My first two years at Cas were wonderful, but the minute we started to become successful and a potential threat, that's when the rumour mill and negative comments started. However, I'm going to use that to spur myself and the team to succeed further.
"I know men's Super League clubs get this all the time, but it was something of a shock for us in the women's domain and I know the players in particular struggled, especially after two final defeats!
"We work the girls extremely hard and they are so dedicated and it's actually quite sad to have to console them when they've had a bad game and been called out on social media for it. It affects their confidence, but it's all part and parcel of where the game is going, and we always have to look at the positives of fans actually being interested in women's rugby league. Hopefully Cas fans will get behind us again next year!"
As mentioned, the increased coverage of the game has created more speculation. Castleford have been one of the clubs rumoured to be poaching players and paying them to come to the club. These reports were categorically denied by Lindsay who reiterated that all players and coaches at the Tigers are voluntary.
"One of the craziest messages I received was that I had offered £5,000 for a player to come to Cas and another was that I am personally paying the players £100 a game. Where do they think I get that kind of money? I'm a teacher, I don't get paid and neither do the players, and as much as we are supported by the Club through facilities, there is no money flying around to pay player. The truth is we struggle to buy the amount of strapping they need!
"Social media is a great method to promote our game but I personally stay away as much as I can. It doesn't stop me seeing or receiving these ridiculous statements and as I'm developing myself as a coach, these types of messages can have a detrimental effect. I'm learning that no matter what we do as a Club, we will be criticised by someone somewhere. However, the support from Cas fans is something else and really makes the job worthwhile.
"When Rhiannion Marshall left Leeds Rhinos for Castleford, people were quick to assume she had been offered money to move and the rumours started. The reality was Rhiannion expressed a desire to come to Castleford and I spent a couple of months on the phone chatting to Leon (Crick) at Leeds to make sure it was under the right circumstances for both clubs.
"Even for 2020 I have had approaches by numerous individuals from WSL and Championship clubs, all of which I have turned away and encouraged to stick with their club, as we all need to be pulling in the same direction – towards raising standards of the whole league."