So, the 2019 season is now over, most teams are finishing off with a well deserved presentation night, a few beers and some rather questionable dance moves. It's an important acknowledgment to congratulate all who have worked hard throughout the season.
As I sat and watched the players receive their awards, I could not help but develop a lump of pride in my throat. Each player was called to the stage by the head coach, ex Scotland player, Ben Parker and the assistant coach, Hull KR's ex full-back, Joe Wardill. The coaches, through due diligence, spoke in detail of each player, they both knew of and could relay their progress, strengths and personal achievements. Some of the players experienced and others in their infancy of rugby league. The diversity of the team is immense, yet the coaches spoke highly of each individual and echoed their efforts.
Awards were received by the team's captain and Yorkshire loose forward, Ruby Magson, most improved went to Prop, Stacey Mowforth and players' player to back-rower Sam Hunter, who, up until this season had never played a game of rugby league in her life! Quite an impressive award and I can't help but admit this is due to the professional coaching, facilities and support Hull KR give to both the women and girls' teams. To walk out onto Craven Park for your first time and play on the same pitch as the Super League men do, well this is an honour only a few can say they have achieved.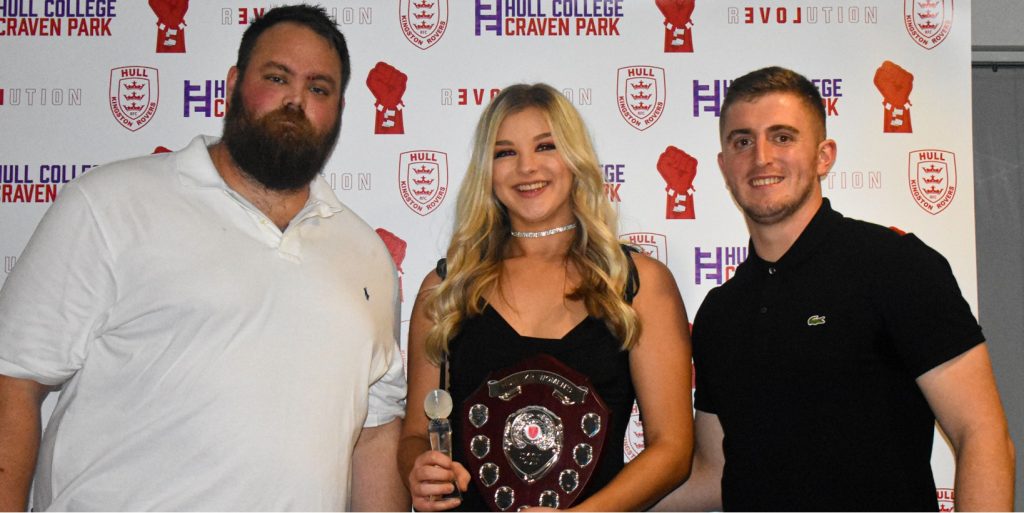 Hull Kingston Rovers ladies and girls teams were born from the direction of Hull KR's trust manager Helen Schofield. I had the opportunity to speak with Helen at the presentation and she told me of the future for the ladies and girls' teams. Helen addressed the presentation and spoke with passion and admiration. She congratulated all involved and she announced the future plans for the teams moving forward. Hull KR have granted each player a famous Hull KR tradition of heritage numbers, that number will be personal to each player and will be displayed on the wall around the ground of Craven Park. To say I was shocked by the announcement is an understatement. If Hull KR only knew how much of a massive step in the right direction that one simple act has done for women's rugby, they would understand how many experienced players on the team have fought for this kind of recognition.
There are women, who through no fault of their own, had to stop playing the game due to the rules preventing young girls playing on after 11 years old. Stacey Mowforth, the awarded prop, experienced this herself and found herself in a 13-year gap between playing. She only laced her boots back up because KR announced the open trials back in March, the beginning of Hull KR's women's history. I can't imagine how that felt for such a young girl and how dishearten she would have been.
Community clubs are stretched within Hull and there is a distinct lack of women's teams, Hull Wyke being the longest standing, until Hull FC announced their women's team and Wyke unfortunately folded. As of this date there are no women's community teams and most young girls play alongside boys until they are asked to leave at the age of 11. I went along to a training session and to meet the coach Sam Smith of the under 10's Hull Dockers team, he informed me that he has 4 under 10's girls who are just itching to join Hull KR's girls, myself and some of the players went to meet these girls and could see how passionate they are about rugby and their future.
The pathway for women's rugby league is still in its infancy, young girls in Hull have two options after they turn 11, but with KR's persistence they have developed a professional pathway for those players. This pathway is imperative for women's rugby as Women's World Cups in 2021 and 2025 draw closer. Two of Joe Wardill's under 16's players, Holly Cole and Aaliyah Brewster have proven that this pathway is working. The duo have progressed from under 16's to the open age team and made an impressive impact. This was recognised when they were invited to trial for the England under 19's Dise programme, which they were successful. The RFL have announced the 21 by 21, a new campaign for everyone in rugby league and women's sport. Their aim is to have 21,000 women playing some level of rugby league, a programme I find refreshing and positive.
Hull KR deserve recognition for what they have achieved to date. Through the persistence of the community coaches and Helen Scofield they are carving a professional pathway for our girls and women's future. Hull's passion for rugby league is almost untouchable and I look forward to watching these women progress and also hope to see a women's curtain raiser at the famous Hull derby!