Batley Bulldogs
The Bulldogs had a stellar season in 2016 but started the new year on a low note, after being subject to a 44-6 thrashing at the hands of newly-promoted Toulouse at the weekend. They've managed to keep all but two of their squad that reached the Qualifiers last year while also bringing in a number of players with significant Championship experience, which significantly bolsters their ranks. While Saturday's result may have just been a one-off bad game, it will be interesting to see how well they perform without John Kear at the helm.
Predicted Finish: 6th
Bradford Bulls
The former Super League champions have had a turbulent off-season to say the least, coming into the new campaign with a pretty depleted squad. The club's financial difficulties have meant they have lost almost half of their squad and are now relying on loans while also handing responsibility to many younger players such as Liam Kirk and James Bentley, who will have a big role to play this season. The Bulls should prioritise their finances above all else this year, making sure they are financially stable first, before worrying about their squad and performances later. They won't be challenging for promotion this year, but shouldn't find themselves in danger of relegation either.
Predicted Finish: 10th
Dewsbury Rams
The Rams had a surprisingly disappointing season opener, especially for a side that has shown much promise over the past couple of years. They racked up some big results last season while a number of the games they lost were by the finest margins. The off-season has seen a mass clear-out at the Tetley's Stadium, with 17 players leaving the club and only 7 coming in. However, their dual-registration partnership with Wakefield has already seen the likes of David Fifita and Max Jowitt and should give their side a boost. The Rams should have a pretty average season and see themselves finish mid-table again.
Predicted Finish: 8th
Featherstone Rovers
The flat-cappers started their season strongly with good win over rivals Halifax. After making the top four last season, Jon Sharp's men won't see any reason why they can't achieve a similar feat this season, especially with a stronger squad. The permanent signings of Luke Briscoe, James Duckworth and Chris Ulugia will give them some much needed consistency outwide, while their dual-registration partnership with Leeds will no doubt be effective for them, as it was last year. A similar sort of season is what I expect from Featherstone.
Predicted Finish: 3rd
Halifax RLFC
'Fax have been a fairly consistent side within the Championship for a number of years now and could easily make the top four again this season. Richard Marshall has been smart in the transfer market and reduced his squad size to just 26, putting much faith in a number of youngsters who impressed towards the latter end of last season. Guys such as Luke Nelmes and Chester Butler will be pushing for regular places in the team, while Halifax have a host of other young players waiting in the wings for their chance. They were unlucky to lose at Featherstone on Sunday, but should be one of the top competitors in 2017.
Predicted Finish: 4th
Hull KR
The Robins come into the competition as hot favourites given their recent relegation from Super League. And despite losing a host of their top players, still have one of the strongest squads. Their mass of Super League experience mixed with the flair of some of the younger players will make them a force to be reckoned with this season, as they look to put last year behind them and make it back to Super League. They should dominate the league fairly comfortably, but there is always a risk of complacency if they get too comfortable.
Predicted Finish: 1st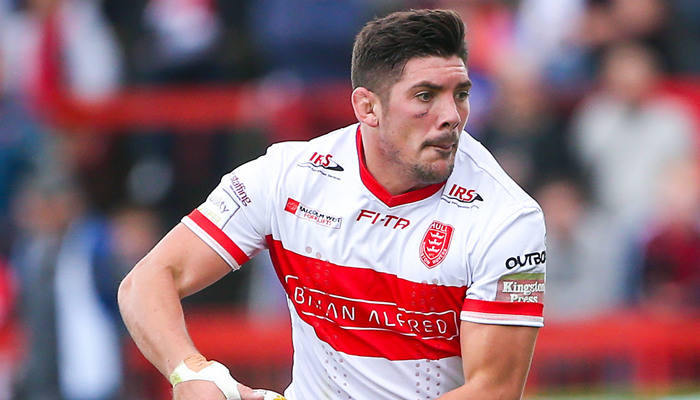 London Broncos
2016 was a triumphant one for the capital-based club, as they finished second and were a noticeable presence throughout the season. Ian Henderson will be looking for his team to build on the back of this and challenge for the top spot. While they have recruited well, Henderson is particularly proud of the number of London-based players the club are producing, with nine named in his 2017 squad. The one problem area for the Broncos may be in the halves, as they have limited depth compared to last year. Otherwise I see them being pretty successful once again.
Predicted Finish: 2nd
Oldham Roughyeds
Having established themselves as a Championship side once again last year, Oldham will be looking to build on that success, which included a major scalp in the Challenge Cup when they beat then-Super League side Hull KR. In a season where they finished tenth, their main problem seemed to be that they are a 'big-game' side. Against some of the bigger teams in the league, such as Featherstone and Batley, they seemed to thrive but it was against some of the teams in the lower part of the league where they seemed to struggle. With better consistency, Oldham could move themselves higher up the table this season.
Predicted Finish: 7th
Rochdale Hornets
Having just been promoted from League 1, Rochdale's main priority this year will be to avoid relegation and their recruitment certainly shows that. The players they've brought in include four from Halifax and a trio from Oldham, bringing a wealth of Championship experience with them. The early signs are positive from the Hornets, as they claimed a huge 46-0 victory over Dewsbury at the weekend. And I predict that this will be one of many shock victories to come from Alan Kilshaw's side, who should comfortably retain their Championship place come October.
Predicted Finish: 9th
Sheffield Eagles
Like Bradford, Sheffield have had their own troubles over the off-season and will see the fact that they even have a place in this year's competition as a success. As a result of the issues the Eagles squad has suffered significantly with eleven players leaving the club, including Steve Thorpe, Cory Aston and maverick fullback Quentin Laulu-Togagae. They go into 2017, therefore, significantly weaker with a team that has only been together for a couple of months, which could massively stunt their progress. I predict a tough season ahead for the Eagles.
Predicted Finish: 11th
Swinton Lions
While the Lions weren't the weakest side in last year's competition, their lack of strengthening could be cause for concern. To improve on last season or even compete at a similar level, they needed to bolster their ranks significantly in the off-season and while they have signed some good players, their squad still isn't on par with the rest of the Championship. It will be down to some of their key men such as Chris Atkin and new signing Jack Murphy to perform consistently if they are to have any success this year, but I think it will be difficult for them to stay away from a relegation place.
Predicted Finish: 12th
Toulouse Olympique
Toulouse will be one of the teams most scrutinised over the next eight months, after a near-flawless League 1 campaign last year and a big victory over Batley in round 1. Much like fellow Frenchmen Catalan Dragons, Toulouse seem to thrive when playing at home and could make the Stade Ernest-Argeles a fortress in 2017 if Saturday's result is anything to go by. Their squad is relatively the same as it was last year, with only Stan Robin coming in for the departing Arthur Gonzalez-Trique among a couple of other departures, but this can only help with the side's chemistry and unity. While they should just fall slightly short of the top four this season, they are certainly the competition dark horses.
Predicted Finish: 5th