Cronulla Sharks have criticised the NRL judiciary's decision to let Sam Burgess off without a suspension after his high tackle on fullback Matt Moylan.
Moylan has now been ruled out injured for two weeks because of the high shot, while Burgess is free to play for South Sydney against Melbourne on Sunday, escaping with just a $1900 fine.
The Sharks are in a battle to solidify their top eight spot, so understandably Chief Executive Richard Munro is less than impressed about the loss of one of his star players.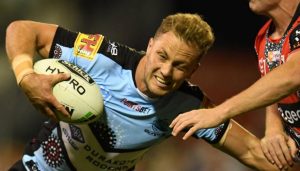 "We're not happy that we have one of our big, marquee players off the field because of that incident," he told The Sydney Morning Herald. "We're not happy about the incident and we're not happy that we've got our player off. We are the ones that are penalised.
"There's no punishment so to speak (for the Rabbitohs), just a small monetary fine.
"The judiciary has processes and they review these sort of things but, at the end of the day, we're the ones being penalised by having one of our best players off the park.
"The process found he is not guilty and he has paid a small fine. We're the club that has been penalised because our main player is off the park.
"It doesn't seem right, does it?"