A new month in our new beginnings, with many of us reluctant to come out of hibernation following drastic change from our early experience with summer to end February.
Normal weather resumed as the players had to tough it out in rough conditions in round four but only a select few could come out on top!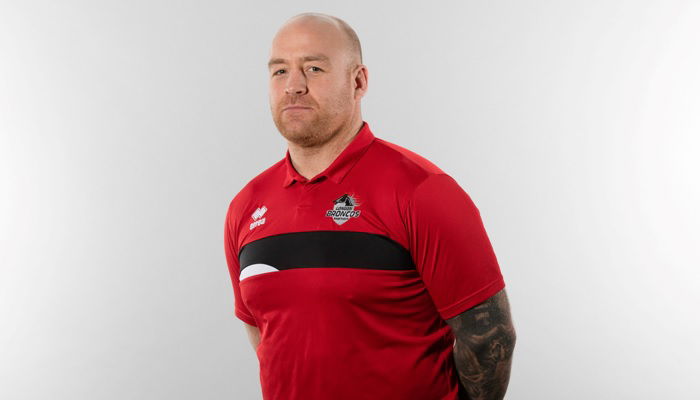 Coach – Danny Ward
Regaining the spot is London's Danny Ward. Hardly a surprise as Ward's London outfit produced one of the shock's the season so far by edging reigning champions Wigan down in Ealing.
You would have had good odds two months ago for such an achievement. Ward's London were heavily written off prior to the start of 2019, with some considering they would equal Halifax's record of 0 points.
Their opening round win over Wakefield prevented that but to double their tally with a win over Wigan is something else, certainly signalling their intentions that they mean business!
Full-back – Lachlan Coote
Fourth time lucky, at full-back is St Helens' Lachlan Coote. The Scottish international certainly has had shoes to fill but is slotting in nicely at Saints, helping them to a hard-fought win over a spirited Salford side.
Coote provided two try assists and managed four tackle busts, eight attacking kicks and 133 metres from 22 carries in an excellent attacking display.
Having done all that in 'murky' conditions, Coote helped the Saints remain at the top end of the table as they look to finally gain some 'overdue' silverware.
Wingers – Tom Johnstone & Kieran Dixon
Wakefield's hottest prospect Tom Johnstone is finally included in an edition, joined by London's points' machine Kieran Dixon.
Johnstone secured a hat-trick of tries in a mesmerising partnership with centre Bill Tupou in their away win at Leeds, but more of that to follow.
Johnstone's finishing ability is second to none, from somersaults to claiming high balls at speed, he demonstrated his capability for international recognition, where hopefully he will be rewarded sooner rather than later.
As for Dixon, he managed a spectacular try and three goals in London's famous home win over Wigan.
He also managed six tackle busts and two clean breaks for good measure in a match that could ultimately help London to safety and inflicted a lot more pressure on Wigan boss Adrian Lam.
Centres – Bill Tupou & Josh Griffin
More on Wakefield and their Man of the Match from Friday's win at Leeds in Tupou, joined by Hull's towering centre Josh Griffin.
One word for Tupou: sensational! He has been one of Trinity's greatest ever signings and Friday saw him at his finest hour!
Assisting in two of Johnstone's tries as well as managing eleven tackle busts and a staggering 270 metres from 17 carries, he was unstoppable and left Leeds captain Kallum Watkins in his wake.
Similar superlatives befell Griffin for Hull too as the Airlie Birds secured back-to-back wins for the first time since last May.
The 28-year-old scored a brace of tries and managed 167 metres from 20 carries, remaining heavily involved with his dangerous attacking ability as Hull saw off Huddersfield in wet conditions.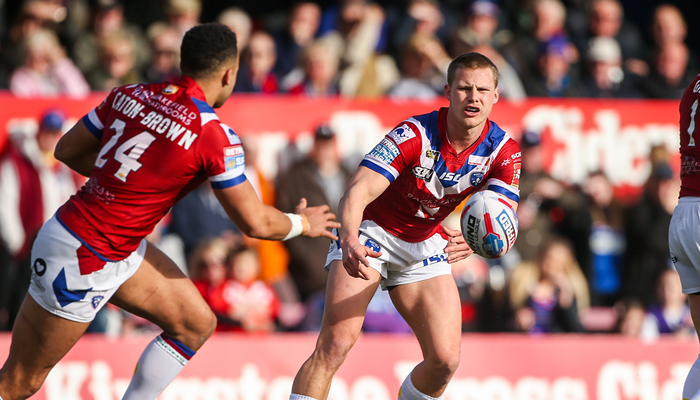 Stand-off – Jacob Miller
Two former team mates line-up at the half-back, first up is Wakefield's Jacob Miller.
Miller was another who starred in Wakefield's comprehensive win at Leeds, bagging a superb solo try as well as providing the high kick for Johnstone to complete his hat-trick on!
Not only that, he managed four tackle busts as well as 74 metres from 14 carries in what was arguably a season defining performance, spoiling Leeds' homecoming party at Headingley in the process!
Scrum-half – Jordan Rankin
His partner is Castleford's Jordan Rankin. In what proved to be a scrappy affair on Friday, Rankin led by example in helping the Tigers maintain their 100% start to 2019.
Rankin scored a try, assisted in another, put in six attacking kicks and racked up 40 metres from 12 carries.
Though his partnership with Jacob Trueman was crucial as it kept Hull Kingston Rovers on their toes throughout, perhaps frustrating them somewhat as their visitors only finished the clash with ten men.
Regardless, Rankin has been a fantastic addition to the Tigers thus far and should continue his impressive form heading forward.
Props – Mickey Paea & Eddie Battye
Two bizarre contenders as 'exile' Mickey Paea is joined by the 'sandwich loving' Eddie Battye.
Paea has been heavily written off by supporters but he returned with a bang in an impressive individual performance for Hull FC.
Paea racked up 181 metres, one of the highest amounts from a forward over the weekend. He also managed five tackle busts and completed 16 tackles for good measure, finally stepping up when his side needed him most.
As for Battye, he was eager to get stuck in as usual, scoring a try that proved crucial in the end for London as well as three tackle busts and 95 metres from 19 carries.
He also completed a staggering 40 tackles that ultimately held off the champions and sent the Broncos into delirium come the full-time hooter!
Hooker – James Roby
Once again at hooker is Man of Steel favourite James Roby. Eager to reclaim his award back that he attained in 2007, Roby produced another Man of the Match performance in St Helens' impressive win at Salford on Thursday.
He scored two tries and managed up to 80 metres with ball in hand, but his 50 tackles that helped restrict Salford to four points was outstanding!
He also led by example, organising the forwards and generating momentum from acting half that kept the Saints flowing in attack, something Salford just could not live with!
No doubt more to come as the ever-green is coasting away in the race for Man of Steel as he and the Saints remain a dominant force.
Second-row – Chris Clarkson & Kenny Edwards
The back-row sees Castleford's latest edition Chris Clarkson selected along with Kiwi import Kenny Edwards of the Catalans Dragons.
Clarkson scored a fantastic individual try, a remarkable effort from a forward, but also put in plenty of work to see off his former club.
Five tackle busts, 92 metres and 36 tackles was his further contribution as he quickly won over the home faithful and should be a good slot in Daryl Powell's side in the future.
Joining him in Edwards, who was key in Catalans' narrow home win over Warrington. He owes his dangerous attacking skills to such a feat.
He bagged a try himself as well as managed six tackle busts, 126 metres from 16 carries and even completed 23 tackles that helped the Dragons end Warrington's unbeaten run.
Loose-forward – Joe Westerman
Maintaining his spot at loose-forward is Hull's Joe Westerman.
The 29-year-old scored two tries, one of which was rather fluky but good enough regardless.
His attacking ability once again was second to none, managing eight tackle busts, 98 metres from 17 carries, two clean breaks and even completing 31 tackles that kept Huddersfield down to just eight points scored.
Impressive stuff from him as he and Hull continued their resurgence up the table in what looks to be exciting times ahead for the Airlie Birds!