History is made as the final regular round of the Betfred Super League season sees something heavily at stake in all six clashes?
With four of the five play-offs places yet to be decided and of course another four clubs battling to survive relegation, it may not have been the best seasons in terms of quality but no mistaking that there has been no more drama than this?!
The penultimate round of course helped set the stage for what will be a memorable finish as we select another Team of the Week over the weekend!
Coach – Danny Ward
Some may argue but London's Danny Ward secures the coach of the week as he guided his London outfit to a famous away win at Hull Kingston Rovers to keep their survival hopes well and truly alive.
The Broncos were down in their previous four visits to KCOM Craven Park under Ward, but on Friday, his side had other ideas, leaving it late thanks to a late try courtesy of captain Jay Pitts.
Many are tipping for Ward to be coach of the year, including the 'favoured' Garry Schofield, but that dream might just become a reality, a certainty should they remain in the top flight.
Full-back – Jordan Rankin
Starting off playing proceedings this week is Castleford's utility Jordan Rankin.
The Australian enjoyed a top night on Thursday, haunting former club Hull FC, as he helped the Tigers back into the top five.
He scored a try, provided an assist and managed eight tackle busts, two attacking kicks plus a staggering 208 metres from 18 carries in what was a superb individual effort on an unforgettable evening!
Wingers – Bevan French & Kieran Dixon
The wingers sees Wigan's latest prospect Bevan French secure a place, joined by London's point machine Kieran Dixon.
French starred in Wigan's emphatic home win over Catalan Dragons, scoring a hat-trick of tries being his highlight of the evening.
He also assisted in two scores plus managed 12 tackle busts and 110 metres from just 11 carries, demonstrating to be a smart purchase for the reigning champions.
As for Dixon, he slotted over four goals in an away win against his former club, but, of course, did provide a rather healthy contribution to the win.
The 27-year-old also managed five busts and a staggering 191 metres from 22 carries, which kept the Robins occupied all evening, enough to eventually wear them down considering the finish.
Centres – Dan Sarginson & Toby King
An-all English combination in the centre's, and possibly Grand Final rivals come October, in Wigan's Dan Sarginson & Warrington's Toby King.
Sarginson may be Salford-bound but it seems as though he has unfinished business with the Warriors as he proved too hot for the Dragons to handle on Friday.
He notched a try, completed 17 tackles and managed two busts and 133 metres from 21 carries.
He has always been heavily involved and a good asset for Wigan, no doubt impressing his new club from 2020 onwards.
As for King, he proved crucial as Warrington returned to winning ways to keep their top two hopes alive.
The 23-year-old provided an assist, completed 26 tackles, four busts and managed 93 metres from 11 carries.
An exceptional work rate from one of the Wolves' hottest prospects over the years and why he could be crucial for them in the run-in.
Stand-off – Jacob Trueman
An obvious choice has to be Castleford's Jacob Trueman.
It really was "The Trueman Show", albeit, slightly different in spelling and events, but the young half-back produced a performance more than worthy of an Oscar nomination.
From scoring a hat-trick and providing two try assists to completing 14 tackles, nine tackle busts and 72 metres from 15 carries, he proved unstoppable for a sorry looking Hull FC outfit, arguably ending his opponents' season on the night too.
Truly deserving of all the plaudits as he demonstrated why he has a bright future ahead of him in the game!
Scrum-half – Brock Lamb
Perhaps another smart purchase from down under, this time by London, has to be Brock Lamb, who is chosen at scrum-half.
The 22-year-old led by example for London in edging Hull KR, scoring a try and assisting with their other two.
He also completed 16 tackles, five busts, four attacking kicks and up to 87 metres from 14 carries in what was a superb display from the Australian, showing that he really did mean business.
Props – Luke Thompson & Mitch Garbutt
The front row sees St Helens' Luke Thompson joined by Hull KR's Mitch Garbutt.
Thompson was a pretty straightforward choice, scoring a brace of tries alone is rather rare yet fantastic for a prop forward in their heavy win over Huddersfield.
However, 24 tackles, ten busts and 165 metres from 17 carries? You really do have a work horse, or a steady juggernaut.
But another worthy of such an accolade was Garbutt. Though he was on the receiving end of a defeat, Garbutt remains arguably KR's signing of the season.
The Australian completed 36 tackles, five busts and managed up to 156 metres from 23 carries, a forced effort perhaps considering they were down two players early on but all the more credit to him, despite the end result.
Hooker – Sam Powell
A difficult choice but at hooker is Wigan's Sam Powell.
The 27-year-old was another who enjoyed a top performance in Wigan's win over Catalan on Friday.
He provided a try assist and managed 54 metres from nine carries as well as 38 tackles, restricting the Dragons to just 12 points scored, ensuring a miserable return for more than one of his former colleagues.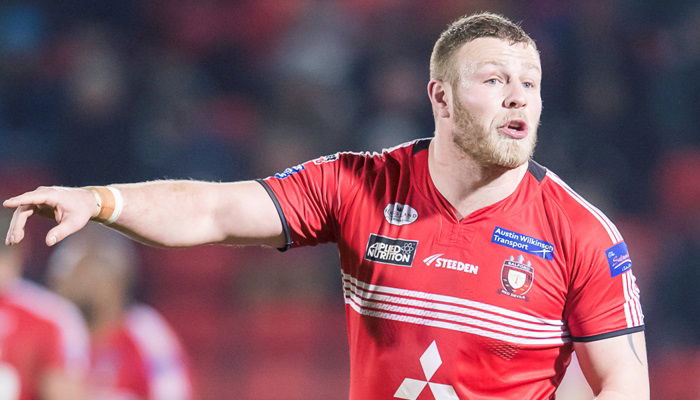 Second-row – Jesse Sene-Lefao & Josh Jones
Two players no stranger to this team return in Castleford's Jesse Sene-Lefao and Salford's Josh Jones.
Sene-Lefao was arguably Castleford's best forward in their heavy home win over Hull, completing 13 tackles, four busts as well as managing up to 152 metres from 17 carries that kept the visitors on the back foot throughout.
As for Jones, on his way to Hull next year, starred in Salford's away win at Leeds to keep their top two hopes alive.
He completed 26 tackles as well as 11 busts and 138 metres from 18 carries and should be a crucial player in Salford's push towards a rather short physical journey to Old Trafford.
Loose-forward – Morgan Knowles
Last but not least, is St Helens' utility forward Morgan Knowles, named at loose-forward.
Knowles was a try scorer for the league leaders as they tore apart Huddersfield to possibly set up claiming a record amount of points in a Super League regular season.
He also completed 24 tackles, three busts and 77 metres as his personal contribution, proving to be another hot prospect to have come through their academy, but can he cement such a terrific season with a Grand Final win?!