1. Billy Slater (Australia)
The veteran Melbourne Storm full-back has been in sensational form this season with his link-up play being superb between fellow Kangaroos Cameron Smith and Cooper Cronk. To some, the link between those three is what separates the Roos from the rest of the pack in the RLWC. He may not be in his prime anymore, but by comparison England's Lomax is nowhere near even with all Slater's injury woes.
2. Valentine Holmes (Australia)
The Cronulla speedster has struggled to live up to his incredible 2016 form when the Sharks won their first ever Premiership – but that doesn't make much different when you have as much raw talent as Holmes possesses. He lacks the power and strength of opposing England winger Jermaine McGillvary, but he makes up for it with pure speed, agility and finishing prowess.
3. Will Chambers (Australia)
Another one hailing from the Melbourne Storm. Chambers has it all, with strong defence, the ability to find a pass and he also has great finishing ability, topped by wonderful instincts. It says a lot that he's been selected for Australia, it can't be easy trying to stand out at the Storm in a squad containing the likes of Smith, Slater, Munster and Cronk – but he's managed that to his credit.
4. Kallum Watkins (England)
Leeds centre Watkins has been much better this year after struggling in 2016. The Rhinos have played to the speedster's strengths this campaign and he has been able to produce to a high level throughout. Watkins has been a regular for England since the last World Cup and will be hoping to deliver his best Down Under. With international quality around him, there's no doubt in my mind you'll see the best of him over the next few weeks.
5. Ryan Hall (England)
Next to Watkins I have his Leeds teammate Hall. Despite Hall's patchy try-scoring record for his club, he has scored a try a game for England – and some brilliant ones at that! His power and strength mean not only is he fantastic close to the line, but an expert at digging his side out of trouble coming away from his own line.
6. Michael Morgan (Australia)
Morgan replaces North Queensland Cowboys legend Johnathan Thurston in the Australian line-up. He guided his club to the NRL Grand Final in Thurston's place and he's easily the man to replace Thurston long-term, seeing off competition from James Maloney in the process.
7. Cooper Cronk (Australia)
Cronk, like Slater, maybe past his best but he's still light years ahead of anything England have offered up since Sean Long. He's in the middle of a bidding war for his services in 2018 between the Eels, Roosters and Bulldogs, which to me speaks volumes of his talent and ability to change a game. He is an outstanding player and will guide the defending world champions around the pitch.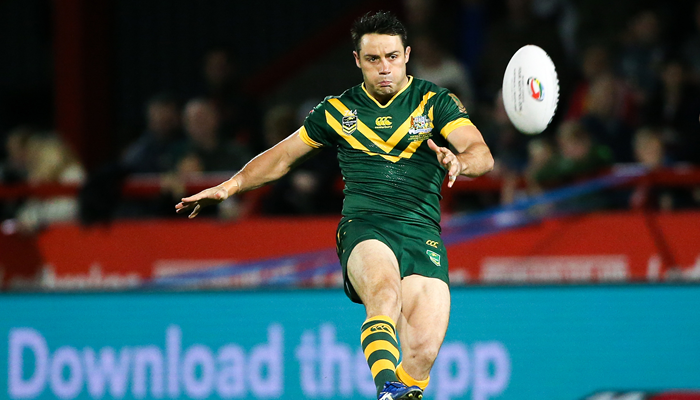 8. Aaron Woods (Australia)
The Australian forwards aren't the strongest they've ever brought into an international competition, having said that, there are still quality players in their pack. Woods is just one of those that will cause all sorts of problems to the England pack in the opener. His aggression reminds me of England's James Graham, ironically the man he has replaced at the Canterbury Bulldogs.
9. Cameron Smith (Australia)
England may have Josh Hodgson and James Roby, but neither of them compare to Melbourne Storm and Australian captain Cameron Smith. The man is a tactical genius and a tackling machine. He once made 72 tackles in a match! He's also versatile, with a superb kicking game and passing skill set; a born winner, he's the main reason Australia are always favourites. Smith is a legend of the game and even now, at the latter stages of his career, he still has the ability to control a game on his own.
10. James Graham (England)
St George Illawarra new boy Graham has been a massive success in the NRL with the Bulldogs, much like Adrian Morley all those years ago. It says much about Jammer's ability to get his teams going forward in hard situations, with many Australian's now seeing him as one of their own. He's uncompromising and hard-hitting – just what England need.
11. Sam Burgess (England)
He was touted as the best English forward over the last 20 years by ex-England captain Jamie Peacock this week. Slammin' Sam Burgess is a hero in South Sydney after his heroics in the 2014 Grand Final, when he played 78 minutes with a broken cheekbone. He's been flattening the NRL's best since he arrived Down Under and despite a spell in Rugby Union, he has returned to his best in 2017. He is one of England's key weapons and with Wayne Bennett seemingly keen to play Burgess wider, expect him to score a try or two in this tournament.
12. Boyd Cordner (Australia)
Sydney Roosters' Cordner is Australia's vice-captain, and for good reason. His leadership qualities are outstanding and he will drive the Kangaroos' pack forward. Known for breaking tackles and finding space, Cordner, like Burgess is vital for the Roos and his work-ethic alone is enough to inspire those players around him.
13. Sean O'Loughlin (England)
I make no apologies for selecting three English forwards in this team. For years they've matched the Australians in the forward battle but lacked in the backs, and there's no difference here. O'Loughlin has been given the England captaincy which to me shows just how much faith Wayne Bennett has in him and the respect he commands from his peers. On the international stage he's been a stand-out performer, especially in recent times against New Zealand.