It's been a long five months but finally, 140 days since a game was last played, Super League has returned.
Catalans, St Helens, Huddersfield and Leeds had the honour of being the first teams to step foot on the field, with Saints and the Rhinos both claiming victories in the double-header at Headingley.
We've picked out five talking points from yesterday's return fixtures…
Rugby League never fails to deliver
With the amount of build-up and excitement leading into yesterday's fixtures, there was always the chance that it could fall flat and be underwhelming. But come on, this is rugby league we're talking about. The two games had everything – skill, controversy, late drama and even Phil Clarke in a Salford shirt.
👤 Who spotted this cut out?

👹 Salford Red Devils would like to thank @SkySportsRL's Phil Clarke for his support!

🏟 Join Phil in getting behind the team next week!

ORDER👉https://t.co/23ehMZy2zd
READ➡️https://t.co/ML3C2fVwdg pic.twitter.com/A5C3kuLUsf

— Salford Red Devils (@SalfordDevils) August 3, 2020
St Helens asserted their dominance with a classy display against Catalans, and looked like anything but a team who haven't played for 20 weeks. Their link-up play down the middle was excellent, while Lachlan Coote looks set for a superb run of form. The Dragons, on the other hand, looked sluggish compared to their opponents and simply couldn't keep up with Saints' relentless pace.
If that was the starter then what would follow was the main course with all the trimmings. Two of the top teams ahead of the suspension, Huddersfield v Leeds was always going to be close, but no one expected a 20-point comeback with a golden point drop goal, did they? You've got to feel for the Giants, who dominated for 60 minutes but Leeds' reluctance to give up has to be praised. Anyway, Super League is back and there's little doubt we're all better for it. Roll on next Saturday!
New rules will take some getting used to
Yesterday was the first time players, coaches, referees and fans got to experience rugby league's new law changes. Rules like the 'six again' and the scrapping of scrums were always bound to change the dynamic of games but the real question is who would adapt best. On yesterday's evidence, St Helens have taken to the changes like ducks to water. They constantly used the set restarts to put Catalans on the back foot with quick play the balls, while the Dragons really struggled to make the most of their own 'six agains'.
Huddersfield and Leeds were tougher to draw a conclusion from. The Giants seemed to be using the rulings to their advantage, having plenty of the ball and scoring five tries to give themselves a 20-point lead. But when decisions started to go against them and Leeds rallied late on, they crumbled. We'll get a better picture of how sides react as the weeks go on but the new rulings certainly seem to have added to the excitement if nothing else.
Graham signing could be key for Saints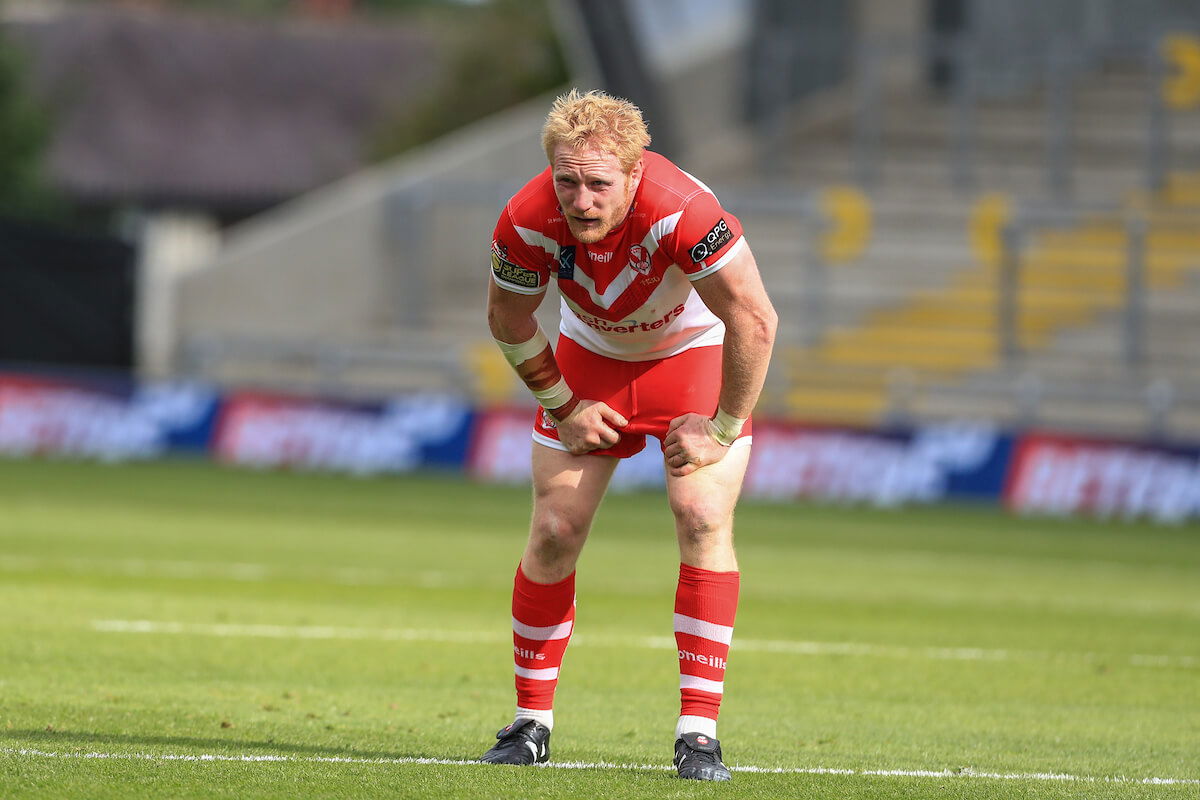 It wasn't only Super League making its return yesterday, with veteran prop James Graham making his second debut for St Helens after re-signing on a short-term deal during lockdown, having spent the past nine years making a name for himself in the NRL. Long considered one of the best forwards of his generation, Graham had an instant impact for Saints, adding plenty of maturity and aggression to Kristian Woolf's pack. Luke Thompson's departure was undoubtedly a blow but bringing someone of Graham's calibre could be a masterstroke from the champions.
Fan initiatives worked a treat
The glaringly obvious absence from yesterday's action was the crowd. 'The game is nothing without the fans' is a phrase that has been uttered across sport more than usual in the past few months, with players forced to get used to what Catalans back rower Matt Whitley aptly described as a "training session atmosphere". While there's little that can be done about the lack of noise – at least in the stadium itself – the initiatives put in place by Super League and Sky Sports to keep fans involved as much as possible were brilliant.
We've got some special guests arriving at the stadium! pic.twitter.com/ffZ0Ezp0L0

— Leeds Rhinos (@leedsrhinos) July 30, 2020
The 'Fan in the Stand' cut-outs were a lovely touch and, I believe for the first time ever, saw someone's cat attend a live game albeit in cardboard form. Sky, meanwhile, had a Gogglebox-style fan cam which showed live images of supporters reacting to the action live from their own living rooms. It's safe to say one of the lasting images from yesterday will be Ronnie the Rhino going mental in his lounge after Luke Gale slotted Leeds' winning drop goal. It's great to see that while the focus has certainly been on getting games back in safe and appropriate manner, the fans haven't been forgotten.
Leeds and Huddersfield are contenders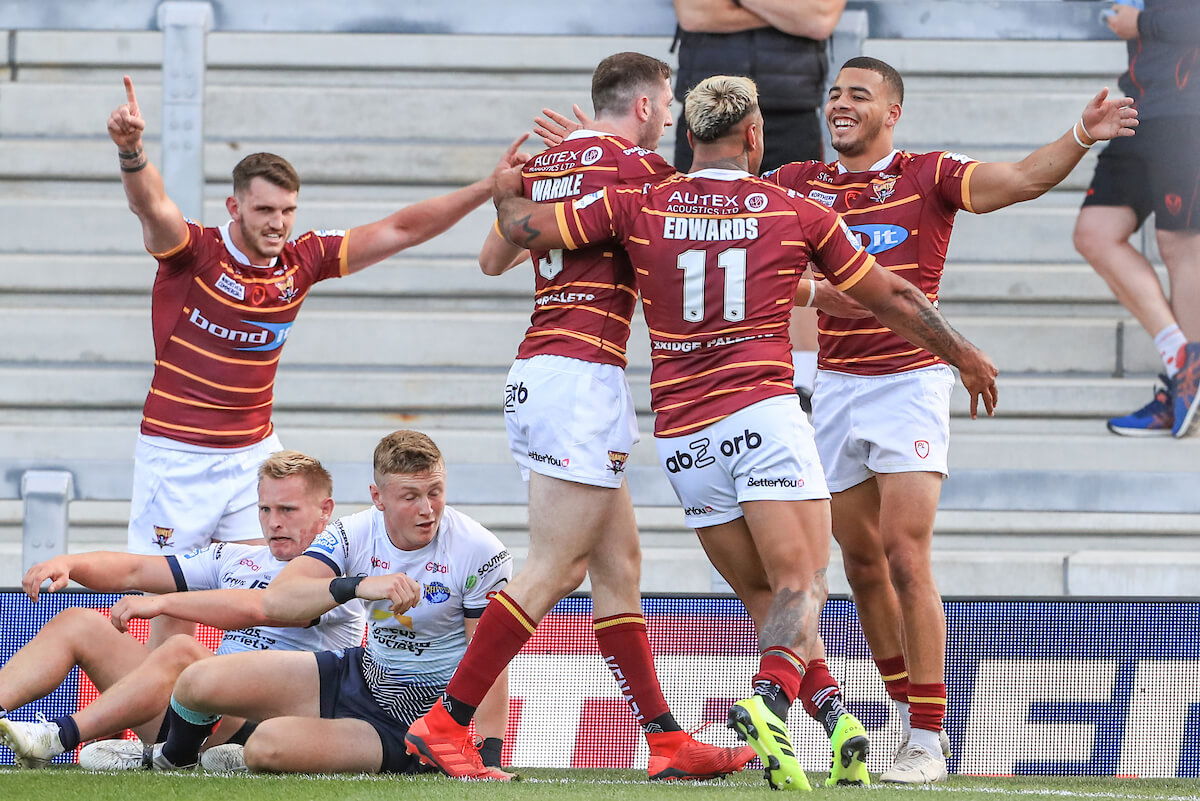 You'd imagine the players and coaches at Huddersfield and Leeds woke up this morning in completely different moods. Luke Gale's golden point drop goal will have elated his teammates enough to carry them through to next week, while the Giants will have to dust themselves down and bounce back. Despite that, though, both sides have shown enough to suggest that come November they'll likely be in the play-off mix.
Simon Woolford has a group of young, hungry and talented players at his disposal, led by maverick half Aidan Sezer who has clicked with partner Lee Gaskell. Sezer seems to be the piece of the puzzle that has been missing in a side that has had top four potential for some years. Leeds, meanwhile, have somewhat lacked heart and team spirit in recent times but this team looks different. There's a camaraderie and brotherhood that hasn't been there since the likes of Sinfield, Peacock and McGuire bossed the changing rooms, and that sort of environment tends to breed success.