From Serbia to Cumbria
Red Star Belgrade will make the trip up to the North West of England for their historic Challenge Cup debut after being drawn away to Millom in the first round. The club have been making headlines in the past few months with the way they are pushing expansion in Serbia, and this game is set to be the next big step.
It's to be hoped the BBC choose the game to be streamed live, because it would give fans a true flavour of what Red Star are about. As it stands, their playing style and quality level is fairly unknown, so it would be great to see them play live.
Peacock returns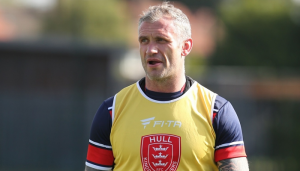 It was never really a case of if Jamie Peacock would return to Leeds, but rather when he'd be back at Headingley. And this week that happened after the club confirmed he will take up a commercial role with the Rhinos, working alongside Commercial Director Rob Oates. Although he won't have direct participation in the coaching, Peacock is the kind of person who'll make his presence felt no matter what role he's in and should have a big influence on the club's younger players.
His recruitment also further illustrates the direction Leeds are wanting to go in, investing in individuals who are already passionate about the club. He obviously joins the likes of Kevin Sinfield, Dave Furner, Rob Burrow and Chev Walker on the backroom staff and probably won't be the last former player to return. There's certainly one Leeds legend set to retire at the end of 2019 who could easily follow Peacock back across from East to West Yorkshire.
Chester outlines his squad
They come into the season as underdogs yet again, but Wakefield have one of the most exciting and well-balanced creative spines in the league. A few weeks ago I foolishly wrote off Chester's belief in Ryan Hampshire and believed he'd be on the outer with Danny Brough's signing. It seems, however, that he'll be Trinity's first choice fullback, forming a deadly combination with Brough, Jacob Miller, Kyle Wood and Tyler Randell.
That itself is an intimidating cluster of players, and that's without mentioning the quality in both the forward and three-quarter lines. The other big change is the new appointment as Miller as captain and it will be interesting to watch how he fares. He initially had a reputation as a bit of a hot-head, but has since calmed down under Chester so it's a good time to trust him with a big leadership role. He's got plenty of experienced players around him anyway so I doubt he'll struggle too much.
Big Al's back!
One man I can't wait to see back on the field in 2019 is Alex Walmsley. The St Helens forward this week confirmed he's been given the all clear to play again for the first time since March, when he suffered a fractured neck.
He's an invaluable cog in the Saints' wheel and there were undoubtedly times they missed him last year. The one positive was that Luke Thompson was subsequently given the chance to lead from the front and developed into one of the world's best forwards. With both Walmsley and Thompson at no.8 and no.10, Saints arguably have the best front row in the league and that will certainly count for a lot.
Centurions shaping up
After a hectic off-season, Leigh are finally starting to get a squad together, with Wigan halfback Josh Woods and Hull KR forward Joe Cator becoming the latest additions. John Duffy now has 18 players signed on with more expected, starting with young Huddersfield halfback Oliver Russell.
It's a side that can survive the Championship but won't contest, as Garry Schofield wrote in League Express this week. How he think they can contest ahead of the likes of Toulouse, Halifax and Widnes is completely beyond me, especially with such a thrown-together squad. Anyway, here's how they could line up right now:
Johnny Pownall, Stefan Marsh, Nick Gregson Iain Thornley, Jack Higginson, Martyn Ridyard, Josh Woods, Sam Brooks, Mickey Higham, Tom Spencer, Toby Adamson, Luke Adamson, Joe Cator. Subs: Andy Thornley, Andrew Bracek, Mitch Cox, Declan O'Donnell. Reserves: Ben Sims, Olly Russell (pending loan from Huddersfield).