With the World Cup 9s kicking off tomorrow, we thought we'd give you a run down of some of the top talents to keep an eye on.
Jake Trueman (England)
Trueman's selection may have come as a surprise, but it's a just reward for his performances this season. The 20-year-old was one of the main reasons Castleford made it to the play-offs in 2019 and will be looking to make an impact on his international debut. Playing what he sees and utilising space is when Trueman is most effective and that's what the 9s format offers in abundance.
David Fifita (Australia)
Now before you start looking puzzled – no, not the Wakefield one! This David Fifita plays for Brisbane and has often been described as a freak of nature. A man of his size and power shouldn't have the speed and technical ability he does, but that's exactly why he's been touted as a future star. In his rookie NRL season, the 19-year-old racked up nine tries, 106 tackle busts and 10 line breaks and was even called up to the Queensland State of Origin squad. He has unbelievable pace and will cause constant problems for opposition defences.
Ryan Papenhuyzen (Australia)
At the start of the season, Papenhuyzen was Melbourne's third-choice fullback, stuck behind Jahrome Hughes and Scott Drinkwater. It took just two months, though, for him to break into first grade and he hasn't looked back since. Known for his blistering speed and killer sidestep, Papenhuyzen is arguably one of the most dangerous attackers in the world and will be relishing his opportunity on the international stage.
Dylan Brown (New Zealand)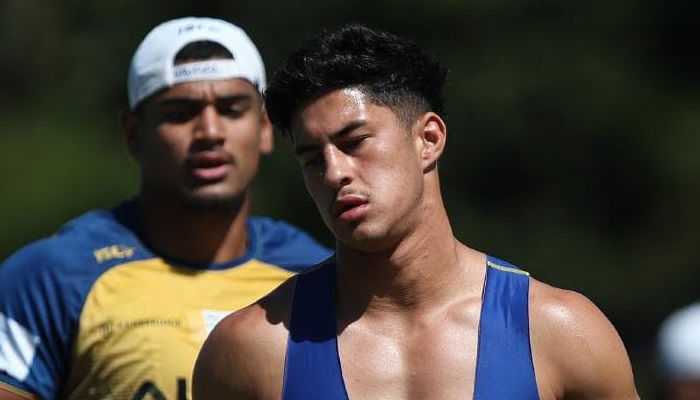 Brown is another who stunned fans in his rookie NRL season. Playing alongside Mitchell Moses in the Parramatta halves, the 19-year-old helped guide the Eels to the semi-finals, showing experience ahead of his years. His vision and ability to take on the line creates countless opportunities for him and his teammates, while his kicking name is often inch perfect. Brown will line up alongside Kiwi maverick Shaun Johnson and will likely take a lot of the pressure off the veteran, leaving him free to play his off-the-cuff style.
Peter Hola (Tonga)
NRL debut and a spot in the Tongan 9s squad!

Massive 2019 for Peter Hola.

?: https://t.co/SpPfvE6zy1#ridemcowboys pic.twitter.com/FxVPawwhTM

— NQ Cowboys (@nthqldcowboys) October 15, 2019
Front rower Hola is the latest star to commit to Tonga, showing the side's appeal is filtering down to their younger players as well the senior ones. The 20-year-old is a very mobile forward and made five appearances for North Queensland this season, as well as featuring regularly for their feeder club Northern Pride, where he made an average of 123 metres and three tackle busts per game. He's likely to have a bigger role for the Cowboys in 2020 and a good 9s tournament could push him even further up the pecking order.
Ronaldo Mulitalo (USA)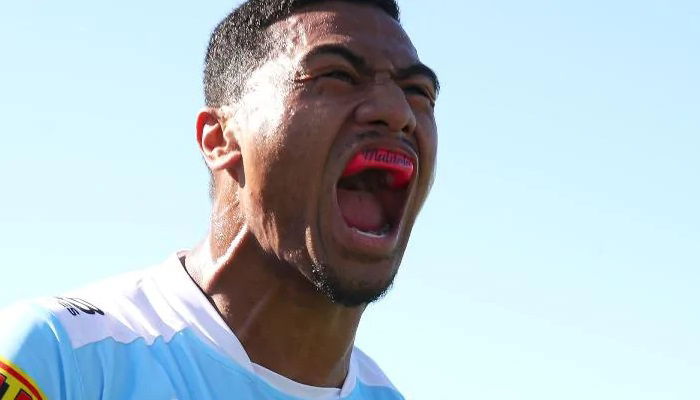 The young Cronulla Sharks centre raised eyebrows after being selected for USA, qualifying through his American Samoa-born mother. But he's likely to be one of the Hawks most influential players at the 9s. Despite playing just eight games in 2019, the 19-year-old has become somewhat of a cult hero, with his high-energy and enthusiasm both on and off the field garnering plenty of fans. Mulitalo is another who has deceptive agility for his size and will be a go-to man for Sean Rutgerson's side.
Regan Grace (Wales)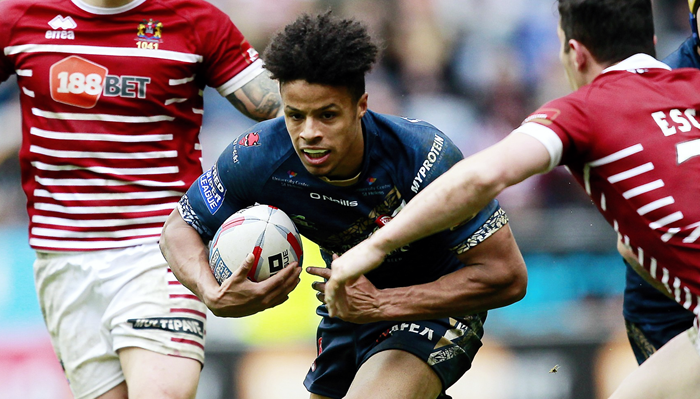 Wales are among the underdogs at tomorrow's tournament but aren't short of quality players, with Grace being the key one. He's built up a reputation in Super League for his speed and finishing ability but is relatively unheard of down under, which could play to his advantage. His style, like plenty of others, is perfectly suited for 9s and you can guarantee his pace will be utilised to the full with the extra space out wide.
Maika Sivo (Fiji)
2019 was a huge breakthrough year for Sivo. The 26-year-old finished the NRL season as top try scorer with 22 – a just reward for years of hard graft in the lower leagues. His fearless attitude to playing, combined with his powerful running, make him a strike weapon in attack and one that Fiji will undoubtedly look to exploit this weekend. The Fijians are in a tough group and have included several players from the Fijian domestic league, meaning Sivo will have to step up and take on a leadership role as one of the senior players.
Tino Fa'asuamaleaui (Samoa)
How do you pronounce Tino Fa'asuamaleaui?

The boys give it a crack and then hear from the man himself in the latest episode of @SchnitzAU! #purplepride pic.twitter.com/55hLqBZdnu

— Melbourne Storm (@storm) July 26, 2018
He's certainly not made front page headlines this year, but young back rower Fa'asuamaleaui has enjoyed a steady rookie season. He managed just five appearances for Melbourne in 2019 but was a standout for their feeder team, Easts Tigers. Still just 18, he has plenty of time to grow and has huge potential and will see this weekend as a chance to showcase his talent on a bigger stage.
Kayal Iro (Cook Islands)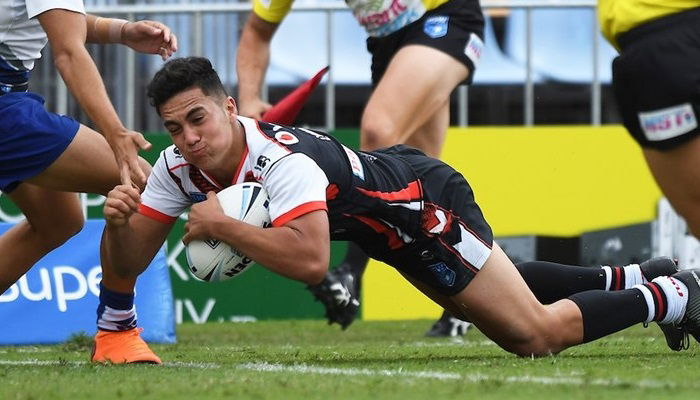 Iro is one of the more unknown quantities going into the 9s, despite having one of the more recognisable surnames. The teenager is the son of Wigan, Leeds and St Helens legend Kevin Iro and will play under his uncle and Cook Islands coach – ex-Wigan player Tony. Iro currently plays for the New Zealand Warriors academy and is yet to make NRL appearance. However, he has been described as a versatile and athletic player with plenty of energy, so make sure to keep an eye out for him.
Caitlin Beevers (England Women)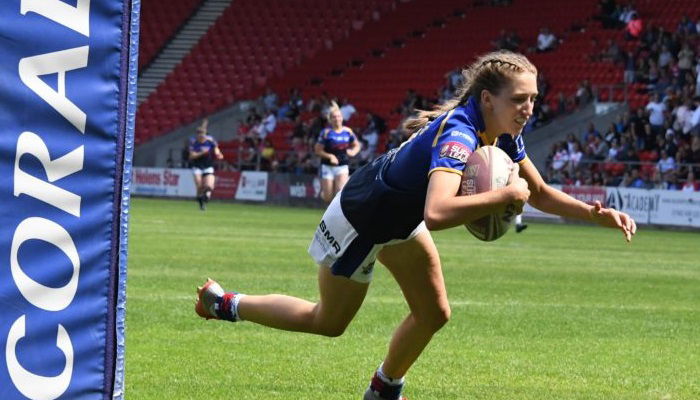 Alongside the men's competition, four countries will also be battling it out for the women's World Cup 9s crown. Among them are England, who have one of the world's top young talents at their disposal. Leeds Rhinos' 18-year-old outside back Beevers has been a shining light in the Women's Super League over the past two years, with her mix of pace and agility terrorising many a defence. She was the Rhinos' top try-scorer last season with 18 and added a further 11 in 2019, so she's no stranger to finding the line.
Jessica Sergis (Australia Women)
Australia also have plenty of young stars in their ranks, including the recently crowned NRL Women's Player of the Year. Sergis' performances for St George Illawarra Dragons were honoured at the Dally M Awards, where she beat off competition from the likes of Brisbane prop Millie Boyle and Kiwi halfback Charntay Poko to win the accolade. The 22-year-old amassed four tries in six appearances in the NRLW, racking up 21 tackle busts, two line breaks and an assist as well. She's represented NSW Blues and the Jillaroos in the past two years and will be key if the favourites are to take home the trophy.
Notable mentions: Reuben Garrick (Australia), Dylan Brown (New Zealand), Bailey Simonsson (New Zealand), Justin Olam (PNG), Ash Handley (England), Reece Lyne (England), Brody Tamarua (Cook Islands), Jarome Luai (Samoa), Brian To'o (Samoa), Arthur Morgue (France), Jacob Kiraz (Lebanon), Kezie Apps (Australia Women), Ali Brigginshaw (Australia Women), Botille Vette-Walsh (Australia Women), Chantelle Crowl (England Women), Honey Hireme (New Zealand Women), Charntay Poko (New Zealand Women).